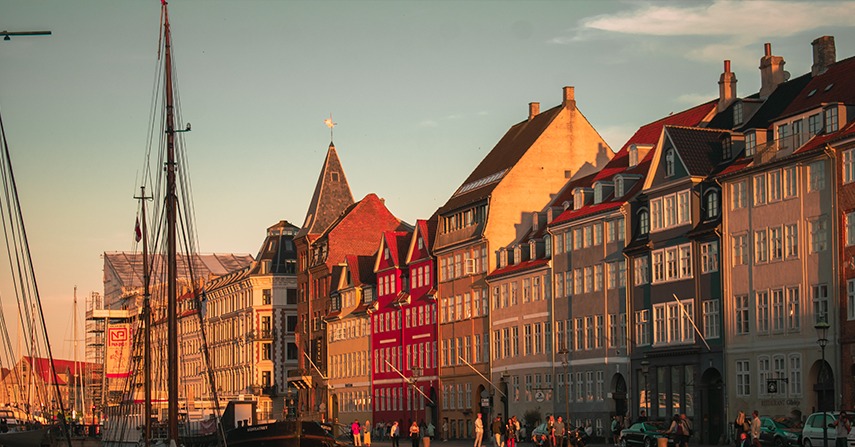 About
Situated as a vibrant blend of bustling urban environments and serene, picturesque landscapes, Denmark is a kingdom that seamlessly marries innovation with sustainable living. Acting as a strategic portal to other Scandinavian nations and the broader European continent, Denmark is perfectly placed for exploration and connectivity. A quick one-hour flight will land you in Berlin, while London and Paris are accessible in under two hours of air travel. Furthermore, the cultural hubs of Barcelona, Rome, Vienna, and Prague are merely a few hours away by plane. This positioning makes Denmark an ideal starting point for any European adventure.
Culture & Quality of Life
Denmark is one of the most balanced, safest, and culturally diverse countries in Europe. In Denmark, there is a strong regard for the common good. Freedom for the individual, equal opportunities, respect, and tolerance are core values.
The Danish welfare model ensures a healthy work-life balance as well as free education and healthcare for all. Similarly, the Danish law guarantees freedom of religion and prohibits discrimination based on gender, race, religious belief, or sexual orientation.
When you live in Denmark, you can enjoy a balanced lifestyle with time for both work and leisure. And while there is a strong respect for the community, there is also a strong emphasis on personal freedom and the opportunity to pursue and fulfill individual potential.
The Danish Educational System
The Danish educational system is designed to promote creativity, innovation, analytical and critical thinking. As a student in Denmark, you will be met with an up-to-date learning environment where you can learn from industry experts and undertake internships in internationally recognized organizations.
Furthermore, global partnerships between higher education institutions, businesses, science parks, and public research institutes ensure that study and research in Denmark reflect the latest knowledge and meet the needs of a global labor market.
Education In Denmark
Higher education in Denmark combines traditional lectures and tutorials with teaching that will help you develop strong problem-solving skills. Open debate and problem-based learning methods will encourage you to express yourself, to pursue experiments, and work collaboratively with others.
This involves project work – on your own and with fellow students. These projects often treat real-life challenges and draw on your ability to use your initiative and think freely. Oral and written exams ensure learning outcomes of high international quality.
The Danish Academic Standards
The learning environment in Denmark is friendly and relaxed with students and teachers debating openly during class and lectures. As you team with other students on collaborative projects you will also be introduced to new friends from around the world.
Whichever subject you choose to study in Denmark, you can expect high academic standards that are recognized worldwide. Danish university tutors are part-time researchers and often have experience as working professionals. This ensures up-to-the-minute academic knowledge and a valuable practical perspective in their teaching.
Furthermore, Danish institutions of higher education often collaborate with business, industry, and research institutes, ensuring a dynamic learning environment where you can learn directly from industry experts. Many programs also include credit-earning internships, offering students the opportunity to gain valuable work experience.
Danish universities, colleges, and academies are state-of-the-art and offer students free access to computers, libraries, and Wi-fi on campus.
Taxation
Denmark's comprehensive public services are supported by some of the highest income tax rates globally. Yet, these rates operate on a progressive scale, implying that as income increases, so does the tax obligation. This system ensures equitable distribution of tax burdens.
Every individual residing in Denmark or earning income within its borders falls under the Danish taxation jurisdiction. Generally, income earned both domestically and abroad is subject to Danish taxes. The actual tax payable is contingent on your total annual income and the extent of your tax liability. This balanced taxation scheme facilitates the provision of the country's wide-ranging public services.
Student Jobs
Securing part-time work as a student in Denmark can pose a challenge, especially for those who are not fluent in Danish. Yet, opportunities may present themselves in bars, restaurants, or jobs requiring unique foreign language expertise.
Many international students have found roles in the hospitality industry, such as bars and restaurants, while others have worked in telemarketing, newspaper distribution, or roles demanding specific foreign language abilities. A fortunate few may even land jobs relevant to their field of study.
However, it's crucial not to bank on the prospect of a part-time job when managing your finances, given the potential difficulties of job hunting in Denmark without proficiency in Danish. As an international student, you have access to free Danish lessons, enhancing your employability within the Danish job market.